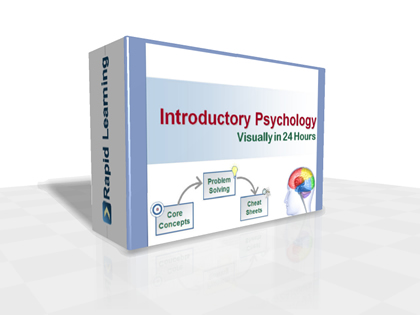 The Introductory Psychology Rapid Learning Series includes:
24 Rich-Media Tutorials (Chapter Movies)
Core concept tutorials with on-screen visualization and expert narration via our signature Rapid Learning System.

24 Problem-Solving Quizzes (Interactive Drills)
Feedback-based problems with a scoring system to track performance and complete solution to reivew concepts.

24 Super-Review Cheat Sheets (PDF Printables)
One cheat sheet per chapter and all key concepts in an at-a-glance single sheet, both printable and laminable, ideal for exam prep and quick review.
24 Printable eBooks
One eBook per chapter, a print version of the tutorial video for easy-to-read
24 MP3 AudioBooks
One AudioBook per chapter for learning-on-the-go on any MP3 player or smart phone.
RL251 - Introductory Psychology Visually in 24 Hours
Course Desciption: This introductory level course will exam the biological basis and basic princilples of human behavior on sensation, perception, learning, memory, personality and social psychology, along with the basic and advanced research methods.
This rich-media course is specifically designed for immersion study with intensity, one hour per chapter with the total of 24 chapters. Instead of reading the textbooks yourself slowly, let our pyschology professors teach you visually and rapidly. For chapter-by-chapter contents of this course, click to download the Introductory Psychology Course Guidebook now (an 60-page free eBook in PDF).
This can also be used for the content preparation for MCAT's Psychological and Social Foundations of Behavior.

Core Unit 1 – History and Research
Tutorial 01: Introduction to Psychological Science
Tutorial 02: History and Approaches
Tutorial 03: Research Methods in Psychology
Core Unit 2 – Biological Basis of Behavior
Tutorial 04: The Nervous System, Neuroanatomy and Neurotransmitters
Tutorial 05: The Endocrine System's Influence on Behavior
Tutorial 06: Sensation and Perception
Tutorial 07: Nature, Nurture and Human Diversity
Core Unit 3 – Thinking: Consciousness, Cognition and Intelligence
Tutorial 08: States of Consciousness
Tutorial 09: Learning
Tutorial 10: Memory
Tutorial 11: Language
Tutorial 12: Thinking and Problem Solving
Tutorial 13: Intelligence Testing and Individual Differences
Tutorial 14: Motivation and Work
Tutorial 15: Emotions
Core Unit 4 – Developmental Psychology
Tutorial 16: Life-Span Approach and Developmental Theories
Tutorial 17: Dimensions of Adolescent and Adult Development
Core Unit 5 – Personality, Abnormalities and Treatments
Tutorial 18: Personality Psychology
Tutorial 19: Abnormal Psychology
Tutorial 20: Treatment of Psychological Disorders
Tutorial 21: Stress and Health
Core Unit 6 – Social Psychology
Tutorial 22: Group Dynamics, Atttribution Theory & Interpersonal Perception
Tutorial 23: Pro-social and Anti-social Behavior, & Culture Influence
Core Unit 7 – Advanced Topics
Tutorial 24: Advanced Research Methods in Psychology