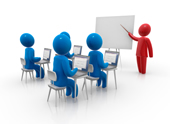 Institutional Learning at Rapid University
Looking to add LMS-based online learning in your institution? Better yet, how about the learning system with lecture contents and quizzes built-in?
Welcome to Rapid University, the extension of Rapid Learning Center, the place for institutional learning in science and math.
What is Rapid University?

Rapid Learning for institutions: Rapid University is to extend the rapid learning solution to larger group of learners, with the signature rapid
learning system and added features of online collaboration and social learning for institutional educators and students.



Learning Management System (LMS): Our LMS offers the latest learning management, built-in online lectures and interactive quizzes and secured hosting with full technical and content support.



High School and College/University Levels: We provide the complete line of high school math, biology, chemistry and physics courses and first/second year university courses in math, biological and physics sciences.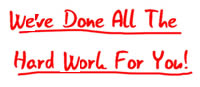 For Whom?

Universities or colleges: Institutions who look to add online courses into the existing programs to reach wider student demographic and cater more web savvy learners.


High schools/districts or charter schools: To overcome ever reducing budget and growing class size, schools can offer traditional high school courses online during regular school year or summer.
Foreign institutions: English instruction in science and math is becoming more demanding in many countries. All of our courses are narrated by native English speakers who are teachers/professors in science and math. Foreign students can learn to master the science/math, and as well as learn to speak technical English.
Tutoring centers or tutors: You can expand your services and ease your content tutoring by utilizing our visual narrated tutorials and test drills, either one-to-one or one-to-many coaching.
:: All You Need is a Web Browser ::
Why Rapid University?

Rapid Learning System: This break-through rich-media teaching caters specifically for today's learners - web savvy and video centric with shorter study cycle and smart teaching. Each course features 24 one-
hour lessons - visual tutorials, problem drills and summary sheets.


A Complete Solution: This online learning in-a-box offers built-in learning modules, learning management system, secure remote hosting and technical/learning support. No software to install or content to create. We have done everything for you, including a custom login with your logo.
Students Love It:: Today's students, who have shorter attention span, love visual videos and are web savvy. Our YouTube-like rich-media platform entices their learning desire and focus. The visualization empowers their learning potential and keep their learning in long-term memory.
Teachers Love It: Teaching is fun when students love it. Lecture contents have been pre-loaded and lessons are ready to go. This LMS features gradebook, own question bank, tracking, report, discuss forum, tagging, custom assignments, upload files, online texting and a lot more.
Course Adoption Kit (complimentary for faculty)

How to Adopt Rapid Learning: If you are an instructor of an existing course or new course, you can adopt Rapid Learning in three ways:

Teaching supplement
In-class lecture replacement
Complete online course offering



What is in the Course Adoption Kit: This kit provides extensive details and inside tour to a rapid learning course. It includes:

50+ page course GuideBook - Curriculum outline, summary, key concepts and subtopics chapter by chapter.
Full access to Rapid Learning - A VIP pass to our platinum course for 2 weeks with complete content access.
Recommended texts - A list of reference textbooks for the course.



How to Request:: Easy, just drop an email to institution@rapidlearningcenter.com with a subject line "Course Adoption Kit" and the following information:

Your name: _______________________
Your title: _________________________
Departmental address: ___________________________
Institutional Email: ______________________________

Course code/name you will be teaching: ____________
Rapid Learning course interested: _________________

* You must be a faculty (verifiable) of an institution with student enrollment to qualify for this free kit.

:: Rapid University is Open for Enrollment Now ::
::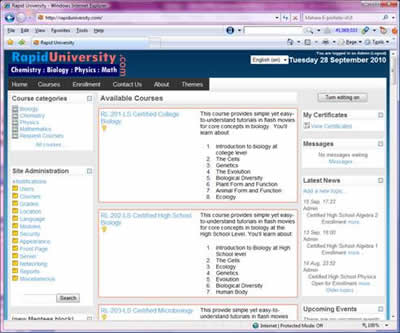 Rapid University Catalog
Our Rapid University courses are available in Insitution Edition: Narrated Visual Tutorial Series and MP3 Audio with DVD Shipped (Life-Time Usage), Plus 24x Printable Tutorials and Full Online Access - All on LMS. Look for the suffix "LS" in the course code "RL-xxx-LS" for these courses.
:: More Courses Are Added Weekly ::