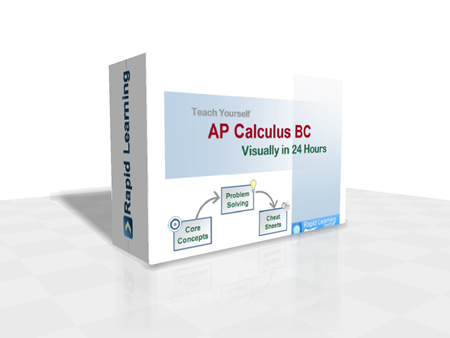 High School AP Calculus BC rapid learning series is designed specifically for high schoolers who are taking AP Calculus BC course or an advanced course with calculus I and II coverage. The rich-media Flash-based tutorials provide an much easier and non-intimidating way to master calculus, much like watching YouTube movies and playing interactive games. Learning calculus becomes easy and fun with narrated movies and problem drills, plus printable cheat sheets.
If you are visual and auditory learner and experiencing difficulty with traditional learning (lectures/textbooks), this rich-media course enables you to finally understand the concepts and problem solving via visual illustration and step-by-step problem solving, narrated by calculus educators.
24x Core Concept Tutorials (Flash Movies)
Featuring concept map, illustrative concept, step-wise problem solving, real world application and summary with rich-media rendering and expert narration.

24x Problem-Solving Drills (Flash Games)
Providing instant feedback on each answer choice, calculus tips to the problems, randomized problem sets, scoring system, time-tracking, play-by-play review and complete solutions at the end.

24x Super Review Cheat Sheets (PDF Printables)
Offering at-a-glance review of all essential core concepts/formulas within a chapter, with one sheet per chapter, printable and laminatible Ideal for exam prep quick review.
Pre-requisite for Calculus
: (1)
High School Algebra 1- RL408
(2)
High School Algebra 2 - RL401
(3)
Trigonometry - RL402
(or
Pre-Calculus - RL403
).
---
High School AP Calculus BC Rapid Learning Series
This high school math course provides the topic by topic coverage required by College Board Adanced Placement Calculus BC. This is also an ideal course for any high school calculus for accelerated students.
Core Unit #1 – The Introduction
Tutorial 01: Introduction to AP Calculus BC
Core Unit #2 – Limits and Continuity
Tutorial 02: Limits and Continuity
Tutorial 03: Rates of Change
Core Unit #3 – Derivatives
Tutorial 04: The Derivative and the Tangent Line
Tutorial 05: Differentiability and Rules of Differentiation
Tutorial 06: The Chain Rule and Higher Derivatives
Tutorial 07: Implicit Differentiation and Related Rates
Tutorial 08: Applications of Differentiation - Part 1
Tutorial 09: Applications of Differentiation - Part 2
Core Unit #4 – Integrals
Tutorial 10: Riemann Sums and Definite Integrals
Tutorial 11: The Fundamental Theorem of Calculus
Tutorial 12: Antidifferentiation and Substitution Method
Tutorial 13: Basic Integration Rules, Integration by Parts, and Partial Fraction
Tutorial 14: Trigonometric Integrals and Trigonometric Substitution
Tutorial 15: Numerical Integration
Tutorial 16: Indeterminate Forms, L'Hopital's Rule and Improper Integrals
Tutorial 17: Applications of Integration
Tutorial 18: Differential Equations and Mathematical Modeling
Core Unit #5 – Special Topics
Tutorial 19: Parametric Functions and Polar Functions
Tutorial 20: Vector Functions
Tutorial 21: Sequences, Series and Convergence
Tutorial 22: Integral Test, Estimates of Sums and Comparison Test
Tutorial 23: Alternating Series, the Ratio and Root Tests
Tutorial 24: Power Series, Taylor and Maclaurin Series, Taylor Polynomials and Approximation
Master AP Calculus BC the rich-media way, get started now: